An Anime Adaptation was announced during a Live Broadcast on NicoNico Live on August 20, 2016, the one year anniversary of the release of the game.[1] On June 19, 2017 the anime site opened and it was revealed that the anime project will consist of a TV series and a spinoff series.[2] On November 2, 2017 during the live screening it was announced that the Anime will consist of 17 episodes, following the storyline of the game while including sidestories!
The first two episodes were screened in advance on November 2, 2017 in Japan.[3] After the live screening, the first and second episodes were being broadcast for free on November 3, 2017 at 12:00 (JST).
The first two episodes will have a special broadcast on January 1, 2018! However, the anime officially began airing on January 7, 2018 starting with Episode 03 and going from there.[4]
All voice actors from both IDOLiSH7 and TRIGGER will be reprising their roles, and Tsumugi Takanashi will be voiced by Satomi Sato (佐藤 聡美 Satou Satomi)![3]
Staff
:
Original Work: Bandai Namco Online (バンダイナムコオンライン, Bandai Namuko Onrain)
Character Designs: Arina Tanemura (種村 有菜, Tanemura Arina)
Director: Makoto Bessho (別所誠人 Bessho Makoto)
Supervisor: Ei Aoki (あおきえい Aoki Ei)
Script: Ayumi Sekine (関根アユミ Sekine Ayumi)
Animation Character Design: Kasumi Fukagawa (深川可純 Fukagawa Kasumi)
Animation Studio: TROYCA (トロイカ)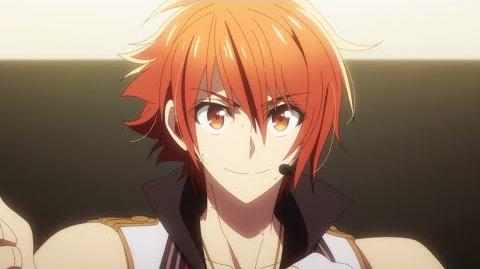 The anime's offcial site is named "Aninana" (ア二ナナ) which is extremely simmilar to "Ainana" (アイナナ, Ainana), exceptes there's an added "N" at the start making it "ani" which is the most common abbreviation for Anime.
References
Edit
Ad blocker interference detected!
Wikia is a free-to-use site that makes money from advertising. We have a modified experience for viewers using ad blockers

Wikia is not accessible if you've made further modifications. Remove the custom ad blocker rule(s) and the page will load as expected.