In-Game Lives
:
Excerpt from the Master Guide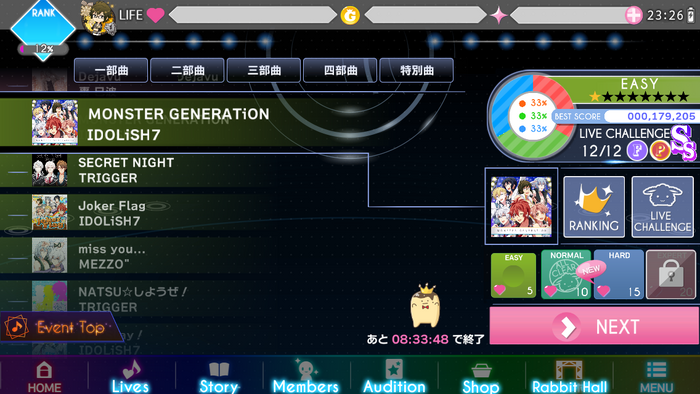 This is what you'll see when you press the Lives button.
---
Pudding Rush (the King Pudding, if it's asleep it's not active)

Instead of earning cadets for live drops, you'll be able to get pudding for a schedule amount of time!

Event Top

Will take you to the event page if there is an ongoing event.
---
The 一部曲, 二部曲, 三部曲, 特別曲 buttons at the top

Button navigation for songs sorted by when you unlocked them in the story.
特別曲 means Special Songs. Song obtained through special ways (ex: finishing all of Part 1 of the story).

Song's Attribute Pie Chart

This chart represents the percentage of the song's attributes. If the song attribute matches the attribute of the unit it will raise the score significantly.

(Global) Ranking

Your score ranking compared to other players.

Live Challenges

All song has their own challenges, if you complete these challenges you will gain rewards!

Song Selection!!

When you read the story within the game, you'll unlock more songs!

Selecting the difficulty!!

Choose which difficulty you would like to play the song in!!

Next Button

After choosing which song you want to play press this button. It will lead you to the player assist page.
---
After picking a player or friend from the assist page, pick a team you want to play with via the arrows off to the side if you have any other teams. Press the back button at the top right anytime you want to change something.
---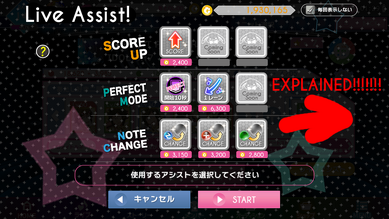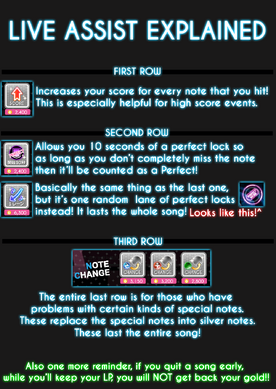 This screen shows the Live Assists. Sometimes this screen doesn't show to everyone, (because you probably turned it off by pressing the check mark in the top right) so press the ライブアシスト (yellow button) to make it show manually.
---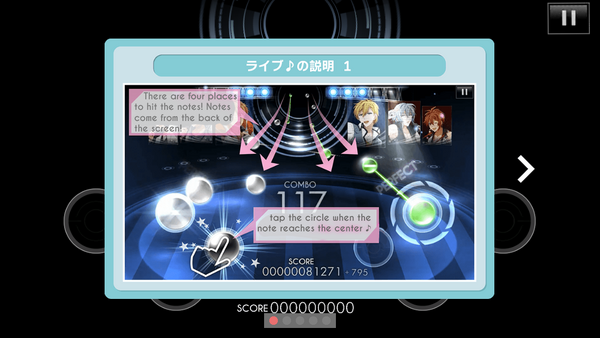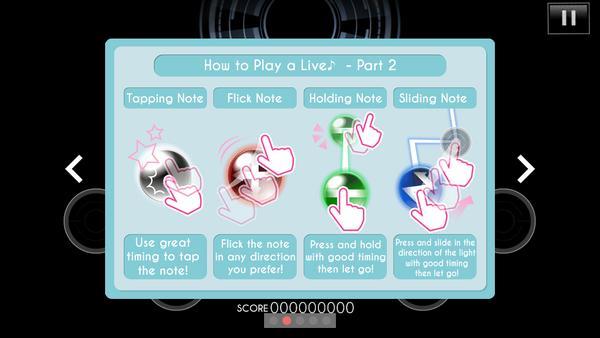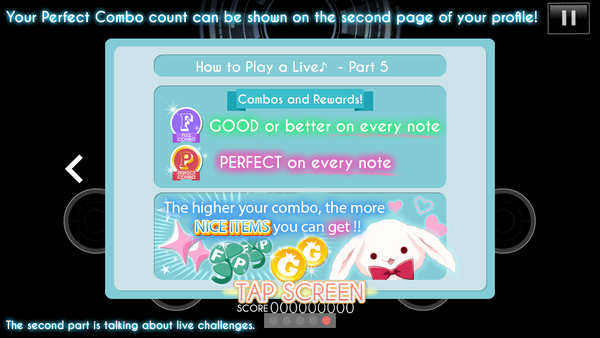 ---
That's NATSU☆Shiyouze 8*
A few things happen once you a finish a live.
You Rank Up

When you rank up, your LP is fully replenished (it doesn't overflow)
Starting at rank 50 you are given 5 free members slots for every 25 ranks (up until the current max rank of 400)
You can get a singular Gacha ticket. During the first 60 levels, you need to level up by 20 to get a Gacha Ticket. After 60, it's every 10 levels for a Gacha Ticket.

Some stuff drops (mainly puddings and attribute tokens)
Your cards level up or gain exp depending on how you did.
Trust (commonly called Affection) will raise up on all of your cards
You get to send a friend request to the person you played with (if they weren't your friend before)