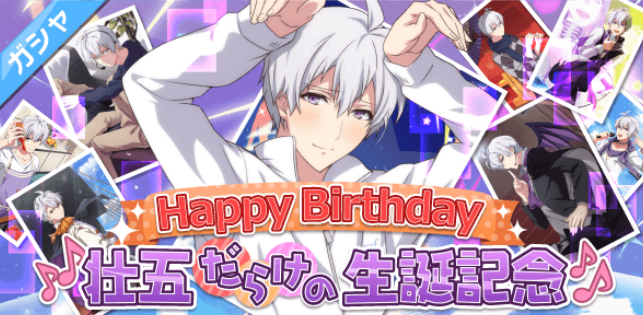 Introduction
Edit
The Happy Birthday, Sogo limited-time audition features some of Sogo Osaka's cards from previous cards sets. The audition will run from May 25th, 2016 (12:00 JST) to May 29th, 2016 (11:59 JST).
Included Card Sets
Edit
Card Obtainability
Edit
Card obtainability varies according to which audition method was used. The Stellar Stone audition pool has 16 cards, while the Gacha Ticket audition pool as 14 cards.
Stellar Stone Scout
Edit
Gacha Ticket Scout
Edit
Take note that not all of Sogo's cards are included in this card pool.
The card Sogo Osaka (Day Off) was mistakenly referred to as "Sogo Osaka (Day Off 2)" in the in-game card obtainability rate chart. This was probably because some cards in the same set had SR versions, specifically Iori Izumi's and Tamaki Yotsuba's.
Ad blocker interference detected!
Wikia is a free-to-use site that makes money from advertising. We have a modified experience for viewers using ad blockers

Wikia is not accessible if you've made further modifications. Remove the custom ad blocker rule(s) and the page will load as expected.