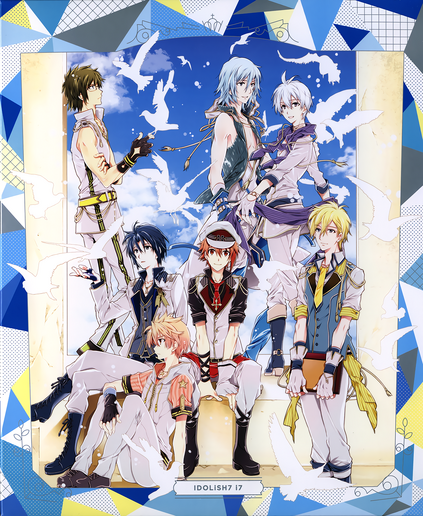 IDOLiSH7 (アイドリッシュセブン, Aidorisshu Sebun) or i7 (アイナナ, Ainana) is a Japanese rhythm game and visual novel mobile app released by Bandai Namco on both Android and iOS. The game launched on August 20, 2015, and has surpassed over 2 million downloads ever since! It's also been spread into many other medias, including; multiple manga adaptations, a novelization, and an Anime that's launching in Winter of 2018!
Plot
Read more at Story
The story starts with Part 1, the player takes the role of Tsumugi Takanashi (小鳥遊 紡, Takanashi Tsumugi) the manager of the seven rookie idols of IDOLiSH7, as they embark on a journey through the entertainment world, gaining experiences and growing from the many challenges they face. Part 1 also introduces TRIGGER, their darker and sexier rivals, who are not without their own challenges.
On March 7, 2016, the game updated with Part 2 of the story, which introduced the senpai idol group Re:vale and dug a little deeper into the mystery of Legendary Idol Zero.
On April 27, 2017, Part 3 was released. Part 3 is much longer than Part 1 and 2 combined and is said to be the climax of the story. [1] Part 3 also introduces an antagonist like group by the name of ZOOL whose motto is "Tetrarchy of madness and destruction."
Characters
Read more at Characters
Media
Game
Despite IDOLiSH7 being a game itself. It does have other games! Some of its song and its own game skin can be found in the arcade game, Synchronica.

Anime
Read more at Anime
An anime adaptation was announced during a live broadcast on NicoNico Live on August 20th, 2016, the one year anniversary of IDOLiSH7. The live broadcast consisted of IDOLiSH7's Voice Actors, Sokichi Shimooka (supervising producer) and Ayaka Negishi (video game producer).[2]
The anime will be released in January 2018.[3]

Manga
There are two types of the IDOLiSH7 Manga! One of them started on August 20th, 2015. Which is by Nokoshi Yamada (山田のこし, Yamada Nokoshi). Another is by Arina Tanemura (種村 有菜, Tanemura Arina), the character designer for the series. The difference between these two is that Arina Tanemura adapts the novels written by Tsushimi Bunta (都志見文太, Bunta Tsushimi) into the manga format. While Nokoshi Yamada's manga is about IDOLiSH7's daily life as an idol.
In the past, before August 1, 2017 you could read the most recent two chapter and the first for free of the IDOLiSH7 manga on hanayumeonline. However as of August 1, 2017, the manga is being hosted on Hakusensha's Manga Park (マンガPark). The mobile app is free to download. To read, Hakusensha provides 80 free coins twice a day. Chapters cost 20 free coins to read. This free coin mechanic only applies to the mobile app, coins must be purchased on the website if you want to read on a browser. The first chapter, however is free!
Novel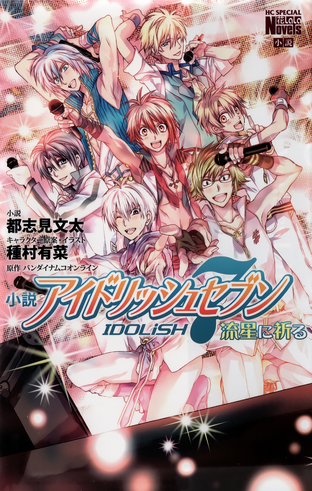 Released on the same date of the games (August 20th, 2015).
Original Work by Bandai Namco Online, Published by Hakusensha, Character Design by Tanemura Arina, Written by Tsushimi Bunta

References
Ad blocker interference detected!
Wikia is a free-to-use site that makes money from advertising. We have a modified experience for viewers using ad blockers

Wikia is not accessible if you've made further modifications. Remove the custom ad blocker rule(s) and the page will load as expected.