Welcome to the English IDOLiSH7 Wiki!
IDOLiSH7 (アイドリッシュセブン, Aidorisshu Sebun) or i7 (アイナナ, Ainana) is a Japanese rhythm game and visual novel mobile app released by Bandai Namco on both Android and iOS. The game launched on August 20, 2015, and has surpassed over 2 million downloads ever since! It's also been spread into many other medias, including; multiple manga adaptations, a novelization, and an Anime that's launching in Winter of 2018! The player takes on the role of Tsumugi Takanashi (小鳥遊 紡, Takanashi Tsumugi) the new manager of the seven rookie idols of IDOLiSH7, as they embark on a journey through the entertainment world, gaining experiences and growing from the many challenges they face as they rise to become the best idols!
The wiki is still currently under somewhat-heavy development/construction. So, please feel free to contribute to whatever you see fit and thank you very much for your contributions, we highly appreciate it!
Current Event:
MECHANICAL LULLABY
Current Gacha:
MECHANICAL LULLABY

Start/Ending countdown over at here
Don't know how to play? Look over here!
Group A: November 14, 2017 (17:00 JST) - November 17, 2017 (16:59 JST)
The Mechanical Lullaby event is a mission event! A Puchinanakore featuring all of the idol groups Mechanical Lullaby cards will be a reward from the event as well as Mechanical Lullaby-themed items for the Hall itself!
Say hello to the steampunk Ichiban Kuji, Mechanical Lullaby! This ichiban kuji has made its way into the game via a limited-time audition! Read more
Part 3 Related News
Tales of Link Collab

New parts are going to be distributed every month!
Read more at Tales Of Link x IDOLiSH7 Collaboration
Group E: December 6, 2017 (17:00 JST) - December 10, 2017 (16:59 JST)
Chapter 15 for the third part of the main story have been released. If you haven't started Part 3 yet, you can read the translations here on the wikia!
The IDOLiSH7 and Tales of Link collab!!
Monthly Scout Catalog:
December 2017!
Latest Gacha:
Sakura Message

December 4, 2017 (4:00 JST) ~ January 1, 2018 (3:59 JST)
Read more at Sakura Message (Special Audition)
Gacha Rate Increase: October 31 (17:00 JST) - November 6 (16:59 JST)
The catalog contains: 2015's Christmas set, the Xmas Magic set, and the Ainana Academy set. As well as Rs and SRs of all of the attribute King Puddings!
Based off of IDOLiSH7's first song from Part 3 of the story Sakura Message, are added to the Rare Audition, these new cards Permanent!
The English Tumblr Team, Shiroi, Sarah, and Kari!!
Without you guys this wikia would be nonexistent, so thank you for everything you've done!
And thank YOU for visiting the wikia! The Wikia team really appreciate it!
This is not an affiliate panel, it's a special thanks panel.

Anime Notice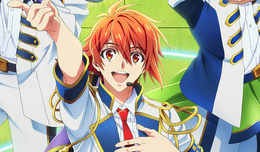 The IDOLiSH7 Anime will officially start airing on January 7, 2018! Starting with Episode 03, the first two episodes will have a special broadcast on January 1, 2018!
The IDOLiSH7 Anime can be watched legally on Crunchyroll for free!
IDOLiSH7 Discord Chat
If you see this, your JavaScript might be disabled or DiscordIntegrator plugin isn't working. If the latter, please contact a wiki administrator.
Featured Poll
The poll changes every month so
come back again to cast in your votes!
See here for previous polls!
What's your favorite thing about Mechanical Lullaby, in general?
Ad blocker interference detected!
Wikia is a free-to-use site that makes money from advertising. We have a modified experience for viewers using ad blockers

Wikia is not accessible if you've made further modifications. Remove the custom ad blocker rule(s) and the page will load as expected.