Welcome to the English IDOLiSH7 Wiki!
IDOLiSH7 (アイドリッシュセブン, Aidorisshu Sebun) or i7 (アイナナ, Ainana) is a combination Japanese rhythm game and visual novel mobile app released by Bandai Namco Entertainment on both Android and iOS. Starting out as a mobile game that was released on August 20, 2015 which has surpassed over 2 million downloads since. The franchise has released multiple merchandise, CDs, albums, light novels, manga adaptations, Music Videos by various animation studios, a PS Vita game and an Anime that was launched in Winter of 2018!
---
The player takes on the role of Tsumugi Takanashi (小鳥遊 紡, Takanashi Tsumugi) the new manager of the seven rookie idols of IDOLiSH7, as they embark on a journey through the entertainment world, gaining experiences and growing from the many challenges they face as they rise to become the best idols!
---
The wiki is still currently under somewhat-heavy development/construction.
But by all means please feel free to contribute and thank you for your contributions the staff highly appreciates it!
Please take a look at what needs to be completed over here!
If you have any suggestions for the Wiki, feel free to drop them over here!
---
This wiki will cover anything relating to the series, so yes there will be Taiwan version stuff on the wiki.
Click images for more information!
Pages are the same for both servers, the information regarding them may differ however.
Happy Birthday, Nagi!
Event:
IDOLiSH7 OFF/Travel @GAME
Gacha:
OFF/Travel SSR




Nagi-Only Audition Start:

June 17 2018 17:00 +0900

Nagi-Only Audition End:

June 21 2018 16:59 +0900

Birthday Login Bonus Duritation:

June 21 2018 03:59 +0900

Ends:

June 21 2018 16:59 +0900

End:

June 21 2018 16:59 +0900

Monthly Scout Catalog:
June 2018
2.5 million downloads!
Login Bonus:
IDOLiSH7 OFF/Travel @GAME

Starts:

June 04 2018 4:00 +0900

Ends:

July 02 2018 3:59 +0900

End:

June 18 2018 03:59 +0900

June 10th marks three years since the i7 Project's initial announcement! To celebrate both this milestone and 2.5 million downloads login before the countdown ends to receive 7 stellar stones.

End:

June 21 2018 16:59 +0900
    Official
      • Site (JPN)
      • Twitter (JPN)
      • Site (TW)
      • Facebook (TW)
      • Youtube Channel

    Unofficial
      • English Tumblr
      • Reddit


 Characters

 Music

 Story

 Game


    • Events
    • Badge System
    • Rabbit Hall


 Cards


Guides / Community
>>  Master Guide   ☆   Starter Guide   ☆   Event Guide   ☆   Twelve Fantasia! Guide
>>  What is IDOLiSH7?   ☆   Wiki Staff   ☆   Wiki Rules & Policies   ☆   Wiki Editing   ☆   Suggestions   ☆   Wiki Poll Results   ☆   Discord Server
Anime Notice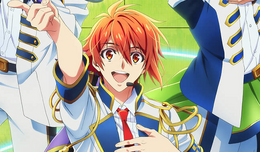 The IDOLiSH7 Anime has officially finished airing! The Anime only covers Part 1 of the story, however there is more to the series than that! Start reading Part 2 of the Main Story which is where the anime ends!
---
The IDOLiSH7 Anime can be watched legally on Crunchyroll for free!
IDOLiSH7 Discord Chat
If you see this, your JavaScript might be disabled or DiscordIntegrator plugin isn't working. If the latter, please contact a wiki administrator.
Featured Poll
The poll changes every month so
come back again to cast in your votes!
See here for previous polls!

Regarding May's Poll
:
A month has roughly past and for what should be put on the Wiki first is Story Translations! Our aim is to get all of the Story by at least September of this year if not earlier, prefered before the date of anniversary but sometimes things don't always go according to plan. The rest of what was on the poll will follow soon after, so please look forward to that!
Do you plan on buying the Nanatsuiro REALiZE Single releasing on June 20?
Affiliates
---
Do you want to affiliate with us?
Drop us a message!
Disclaimer
IDOLiSH7 belongs to Bandai Namco. The manga is published by Hana LaLa, and the novel by Hakusensha. Character design for IDOLiSH7 by Tanemura Arina. Music for the game by Lantis. No copyright infringement is intended.

---
Thank you to The English Tumblr Team, Shiroi, and Sarah for allowing their information to be used on the wiki! Please support the original creators, idolish7.com, the manga, and the novel!