| | |
| --- | --- |
| | This tutorial article is image-heavy. |
Starting the Game and In-Game Tutorial
Edit
Upon starting the game and letting the game download the necessary data, the first thing you will come across one of the two start screens. Tap anywhere but the two orange buttons on the bottom-right of the screen to proceed.

The two orange buttons are buttons that lead to data transfer (across devices) (left) and contact us (right).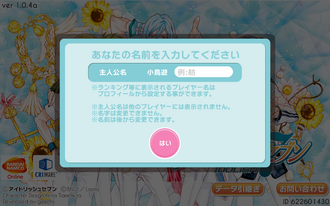 The game will then ask if you agree to their Terms and Conditions. Press the round pink button on the right to agree/proceed. The game will further ask for your story character's first name, with the default being Tsumugi (紡). After entering your desired name in the given area, press the pink button on the right to proceed. Finally, the game will ask if you would like to download voice data for the characters. Press the pink button on the right to proceed to the download the voice data.
After all the data have been downloaded, the game will proceed to the Chapter 1: Story 1 of the main story. You cannot yet access all the other areas of the game unless you have finished reading up until Chapter 1: Story 4.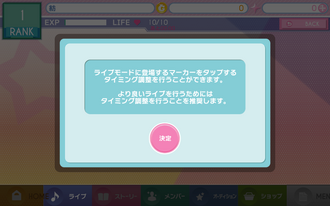 After completing Stories 1 to 4, you will then head to the tutorial session for the rhythm game. In addition to explaining the basics, you will be given the chance to fine-tune the rate at which you are able to tap. You will be able to test out your settings via a brief play session of "MONSTER GENERATiON".
After the rhythm game tutorial, you will have to resume reading the story up until Chapter 1: Story 6, as all other areas still remain locked.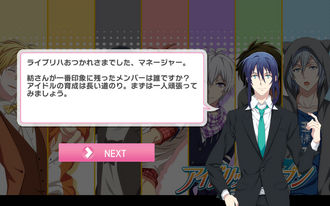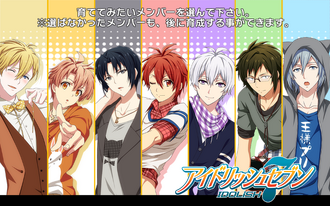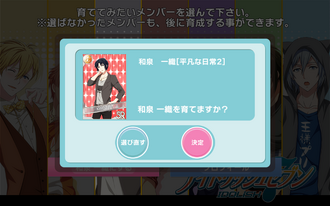 After clearing Story 6, you will now be able to choose your starter card from among the seven members of IDOLiSH7.

(Bottom left image:) The blue button on the right will show you the card information, which include what the card looks like, stats, skills, and intensive training slots. All cards come from the Ordinary Days series, and are the SR versions of the Ordinary Days cards. The pink button on the left will confirm your choice.

Pressing this will lead to one last confirmation screen (bottom right image): the button on the left will return you to the options screen, while the pink button will confirm your choice.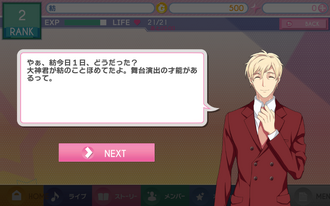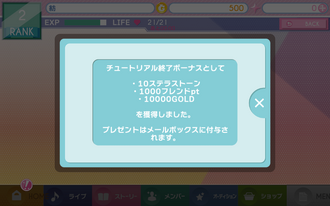 The in-game tutorial ends with a dialog with Otoharu Takanashi and the collection of the tutorial completion rewards.
Ad blocker interference detected!
Wikia is a free-to-use site that makes money from advertising. We have a modified experience for viewers using ad blockers

Wikia is not accessible if you've made further modifications. Remove the custom ad blocker rule(s) and the page will load as expected.