"

Scary, isn't it? The part of you that you don't want people to know about,
being accepted and recognised.

"

—Mitsuki Izumi

Mitsuki Izumi (和泉 三月, Izumi Mitsuki) is a positive ray of energy for most of the other members of IDOLiSH7. He takes on the role of older brother for many of the younger members as well as his own younger brother Iori Izumi. His energetic personality very often sets or repairs the mood.
Mitsuki has failed multiple auditions before joining IDOLiSH7. He often questions if he really has a place in IDOLiSH7, or if he even deserves to be a member. However, Mitsuki's mood-making skills are second-to-none, and he is by far the most capable MC in the group.
He's very loud and boisterous, often playing the straight man to some of the other members' more ridiculous antics, and gets angry just as easy as he smiles.
Room
---
Discography
---
IDOLiSH7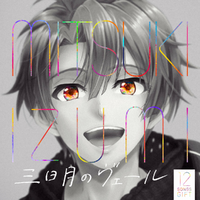 Relationships
---
Etymology
---
Surname
和 = gentle; harmonious
泉 (izumi) = spring; fountain

Given Name
Voice Actor Comment
---
These are comments regarding Part 3 [2]
FOR YOU:
It's incredible this time, too! There's times where you'll cry and times where you'll feel emotional and tons of exciting points, so I'd really like it if you could look forward to it. Make sure to keep an eye out for the new group, ZOOL, too.
FOR MITSUKI:
I've once again understood that if you're not there, IDOLiSH7 will get into a really bad place, so I feel like I wanna tell you, "You really gave it your all this time, too, so seriously thanks for all your hard work." while patting you on the shoulders.
Trivia
---
has a food preparation license
often helps out at fonte chocolat, his family's dessert shop, on off days
a high energy/high tension drunk
has been trying to be an idol since about high school
once wore a Cocona cosplay during his hangover, and sent pictures of himself in it to iori
would like to take over his family's business if he wasn't an idol
References
---