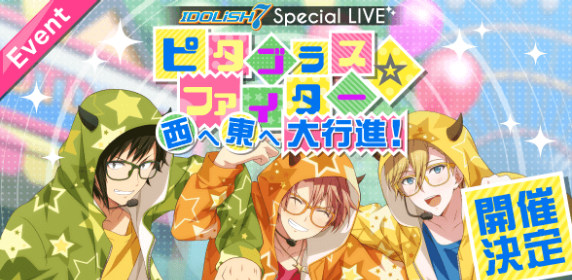 May 9th (17:00 JST) ~ May 15th (16:59 JST)
Introduction
Edit
Pythagoras☆Fighter ~The Great March From East to West~, the ninth event of 2017 is a High Score event! The main event song is Pythagoras Trio's unit song Pythagoras☆Fighter!
This event will run from May 9th (17:00 JST) to May 15th (16:59 JST).
Maintenance for the event will start on May 9th, 2017; 13:00(JST) and end at 17:00(JST).
The results for the event will be available on May 15th, 2017 (17:15 JST) to May 22nd (11:59).
Bonus Cards
Edit
All of Yamato, Mitsuki, and Nagi current cards all give bonuses for this event!
Please note that the Order Please set will not count towards the event.
  Rare cards
  Score increases by 5%

  Super Rare cards
  Score increases by 10%

  Super Star Rare cards
  Score increases by 15%

  Ultra Rare cards
  Score increases by 20%

Ad blocker interference detected!
Wikia is a free-to-use site that makes money from advertising. We have a modified experience for viewers using ad blockers

Wikia is not accessible if you've made further modifications. Remove the custom ad blocker rule(s) and the page will load as expected.