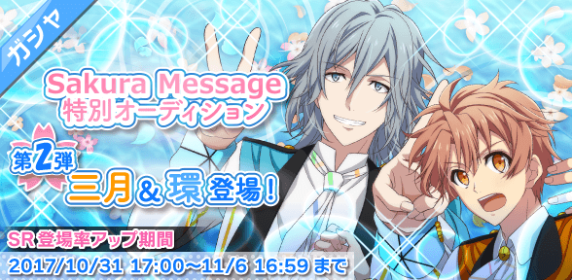 April 28th (17:00 JST) to May 4th (16:59 JST)
Introduction
Edit
Sakura Message limited-time audition features IDOLiSH7's First song in Part 3 Sakura Message! The audition will run from April 28th (17:00 JST) to May 4th (16:59 JST), but will be available in groups. These cards are permanent, so they won't be available via the Scout Catalog.
The cards available within the Audition are only SRs, so in order to get the SSR version you must scout two of the same card and then idolize it.
Everyone will get a Sakura Message card, however the info on when they will be released and with who, are unknown as of right now.
Run Time: February 14th (12:00 JST) - February 17th (15:59 JST)
Featured Characters:
Draw Rate per Card via Stellar Stones: 3.50%
Draw Rate per Card via Gacha Tickets: 7.00%